The Virginia Creeper Trail is a public access, shared use trail connecting Abingdon, Virginia with the Virginia – North Carolina border 1.1 miles East of Whitetop Station, Virginia. The total trail length is 34.3 miles.
The Virginia Creeper Trail Began as a Native American footpath. Later the European pioneers, as well as early explorer Daniel Boone, used the trail. Shortly before 1900, W.E. Mingea constructed the Virginia- Carolina Railroad from Abingdon to Damascus. In 1905 the Hassinger Lumber Company extended the line to Konnarock and Elkland, North Carolina. In its day the line hauled lumber, iron ore, supplies, and passengers, its nickname, Virginia Creeper, came from the early steam locomotives that struggled slowly up the railroads steep grades. The Virginia Creeper engine and tinder are now on display at the Abingdon trailhead. Virginia Creeper is also the name of a vine that grows prolifically in the area.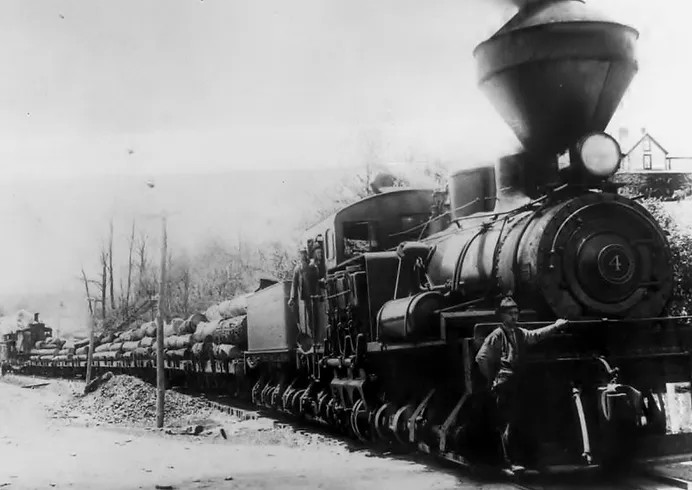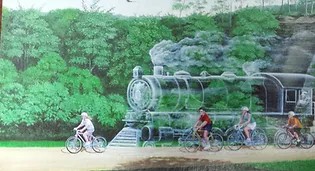 With 100 trestles and bridges, sharp curves, and steep grades, the Virginia Creeper was the typical mountain railroad. Train crews faced washouts, rock slides, and other hazards, but it was economics that sounded the lines death whistle. Having failed to turn a profit since the great depression, the Creeper ran its last train March 31, 1977.
Less than a century after the railroad arrived, the Virginia Creeper once again became a quiet trail. Through the work of volunteers and with help from local and federal governments, the Creeper became a national recreation trail.
Between Abingdon and Damascus, the trail right-of-way belongs to the two towns. Although the public legally has the right to use the trail, most of the actual land between Abingdon and the iron bridge East of Damascus is privately owned. The 15.9 miles of trail between iron bridge ( mile 18.4 ) to the state line are part of the Mount Rogers National Recreation Area in the Jefferson National Forest. Except for a short stretch through Taylor's Valley, the public owns both the right-of-way and the actual property.
The Virginia Creeper Trail traverses some of the most rugged and picturesque scenery in the Eastern United States and is widely lauded as one of the most beautiful trails on the continent. Enjoy your visit.